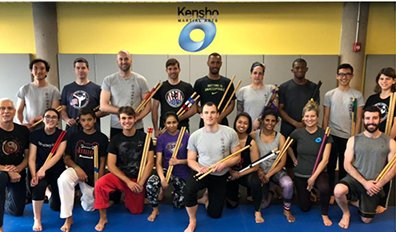 Take your Kali stick & knife skills to the next level!
Guro Roger will cover ranges of stick, knife and empty hand defense including counter striking, disarms, locking and take downs.
Required equipment: Kali sticks (pair) & training knife
"If you can't defend yourself with a weapon, does it really make sense to think that you'd be able to defend yourself without a weapon?"- Guro Roger Luri
Event Details
Date: Sunday, May 5, 2019
Time: 1PM – 6PM
Location:
Kensho Martial Arts
1030 W. North Avenue 3rd Floor
Chicago, IL 60642
Cost
Early Bird Registration Special
Workshop only: $40
Workshop + Kali Sticks and Training Knife: $75
Workshop + Kali Sticks: $65
Workshop + Training Knife: $55
Regular Price
Workshop only: $50
In addition to this seminar, Kensho Martial Arts offers Kali and Filipino Martial Arts classes as part of our regular curriculum.