Muay Thai (or Thai Boxing) is the national sport of Thailand. This combat sport requires a level of physical conditioning unmatched in sport martial arts. Pro football players and other elite athletes have sought out Thai boxing's advanced training techniques for their high level conditioning routines. It is sometimes called the "Art of Eight Limbs" due to the fact that strikes are performed not only with the hands and feet, but also with knees and elbows.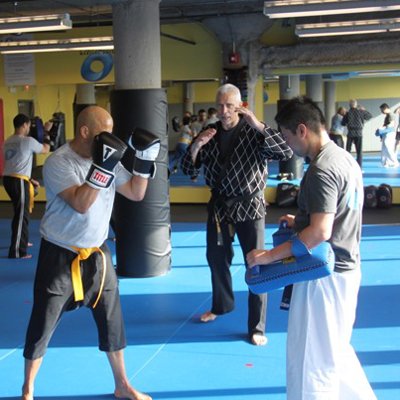 Muay Thai is one of the pillars of Kensho's signature mixed martial arts program.
Muay Thai training helps us to develop power, speed and lightening reflexes with our punches, kicks, knees and elbows while the training helps us to develop guts and a "Bring It On" attitude like nothing else. Yet, Muay Thai training is steeped in respect and humility.
In order to progress in Muay Thai, solid technique is a must. Students learn correct form and then practice to hone their skills.
---
There is a lot more to it than just banging on Thai Pads. High intensity Thai pad training is an art in itself, which has been developed in order to maximize conditioning and perfect techniques safely. With 35+ years in Thai Boxing, head instructor Ajarn Roger Luri has trained many champion fighters and certified many top instructors.
Try Kensho Chicago's Mauy Thai classes.
Free garage parking and conveniently located between Lincoln Park, Lakeview, Bucktown, Wicker Park, River North and the Gold Coast.
Call us now at: 312.291.1655
Or enter your e mail below for immediate access to:
More Muay Thai Blogs and Info
Kensho Class Schedule
Our Limited Time Web Only Trial Offer!