Kensho Kickboxing – The Real Deal!
Unique Hybrid of Styles – Solid Skills – High Intensity Training
Seasoned Martial Artists or Beginner – LEVEL UP!
REAL FUN!
These days it seems that the term Kickboxing is often used synonymously with cardio or fitness kickboxing. But if you think you may really like it, the only way to get the benefits of kickboxing is if you keep it up and get really good at it.
You may work up a great sweat, but you'll never get good at kickboxing by flailing your arms and legs in a fitness class! Throwing a lot of punches & kicks incorrectly, only builds bad habits and insures that you won't stay with it in the long term.
No of us is born knowing how to punch and kick. We all start as beginners. The difference is that at Kensho we have the experience and time tested step by step curriculum to get you started on the right foot and bring you step-by-step all the way to black belt level.
At Kensho, we'll have you putting your punches & kicks together the right way (& getting an awesome workout) from day 1. You'll be developing the solid technique and skills to train safely and take your fitness to the next level, but don't worry, you don't have to fight anyone!
Wikipedia says: Kickboxing is a group of combat sports based on kicking and punching, historically developed in Japan beginning in the late 1950's from Karate and  Muay Thai.  Kickboxing is practiced for self-defense, general fitness, or as a contact sport.
The first cross style tournaments in the U.S. were held in Chicago in 1962 by Count Dante and Dr. Muang Gyi. (Grand Master Gyi was an instructor of Sensei Luri's  for many years in Bando – Burmese Kickboxing and other other martial arts.)
Kickboxing has always been a hybrid of different combat sports. Our Kensho Kickboxing system was born from Boxing and Karate (which were the origins of Kickboxing in America in the 1970's and 1980's) combined with Muay Thai, Savate (French Kickboxing), Bando and Shooto.
We'll show you the way to start building the your moves & having big fun from your first class. At Kensho you'll learn the sweet science of boxing & kickboxing step by step. We break it down, motivate you & teach it like no where else.
This is not your gym's cardio kickboxing class!
Kensho's comprehensive boxing and kickboxing curriculum is like no other. You will be training with a champion fighter who helped many students to become champion boxers & kickboxers and trained an awesome group of instructors! Our program has been continually developed and refined to build our student's skills quickly. In our beginning Level classes, you'll do a lot of fun partner drills that are specifically designed to develop your skills in a hurry. After just a few classes, you'll know how to move & be able to use it if you need t0.
You'll get into awesome shape in a hurry. Our kickboxing classes are the ultimate whole body workout for students of all levels.  We combine rounds of heavy bag work with intervals of our specially designed functional fitness exercises so you develop your technique along with practical functional core strength, flexibility, and a strong, sculpted physique.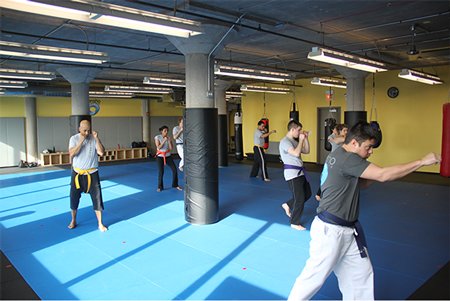 No experience necessary to start.
---
Fun and welcoming classes
We will start you off with a Personal Training session to show you a few basics and get you started on the right foot. 
You'll find Kensho's instructors and students alike to be friendly, and welcoming. Everyone will make you feel like one of the family regardless of your skill level. Classes are challenging, but huge fun for beginner or seasoned athlete alike.  We train seriously, but always keep it fun!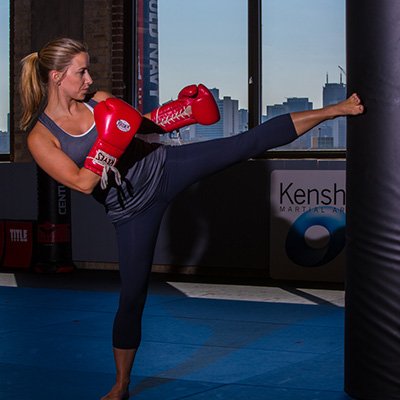 ---
Interested or Committed?
Let's face it, Interested doesn't get results!
Kensho Kickboxing – Accept the Challenge!
---
Try Kensho Chicago's Kickboxing classes.
Free garage parking and conveniently located between Lincoln Park, Lakeview, Bucktown, Wicker Park, River North and the Gold Coast.
Call us now at: 312.291.1655
Or enter your e mail below for immediate access to:
More Martial Arts Blogs and Info
Kensho Class Schedule
Limited Time Web Only Trial Offer!