Also known as Boxe Française, Savate is a French martial art which uses the hands and feet as weapons combining elements of western boxing with graceful kicking techniques. Savate is perhaps the only style of kickboxing in which the fighters wear shoes (similar to a boxing or wrestling shoe).
Savate is great fun and a great workout.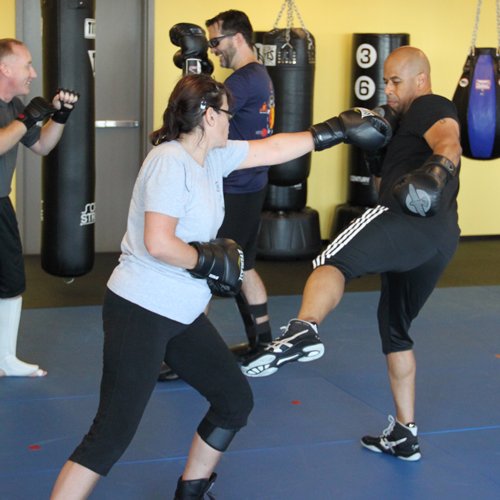 Kensho's & MMA programs include Savate techniques which help helps us to learn balance, control, distance and timing. We develop combinations of punches and kicks which flow gracefully  with precise footwork. Savate's unique training methods allow us to develop our skills  without excessive contact.
Modern codified Savate provides for three levels of competition:
assaut (controlled contact)
pre-combat
combat (full contact)
Assaut requires the competitors to focus on their technique while still making controlled contact (referees assign penalties for the use of excessive force). Combat, the most intense level, prohibits protective gear other than groin protection and mouthguard.
---
Kensho Martial Arts on Chicago's near north side is one of the few places in the U.S. to learn the art of Savate.
Today, Savate is practiced all over the world: from Europe to Asia and the Americas. Many countries including the United States have national federations devoted to promoting Savate. Kensho's Head Instructor, Roger Luri (twice United States Savate combat champion) is current president and one of the founding members of the USSF- United States Savate Federation. USSF is the United States official representative to  FIS – the International Federation of Savate FIS is now in the process of petitioning the International Olympic Committee to have Savate competition as an Olympic sport.
Kensho students have the opportunity to earn Technical Glove ranking in Savate (Blue, Green, Red, White, Yellow and Silver Glove).
Over the years we have trained and ranked hundreds of students in Savate including a number of Silver Gloves and quite a few of our students have travelled to Europe to compete in Savate assaut world championships!
---
Try Kensho Chicago's Savate classes.
Free garage parking and conveniently located between Lincoln Park, Lakeview, Bucktown, Wicker Park, River North and the Gold Coast.
Call us now at: 312.291.1655
Or enter your e mail below for immediate access to:
More Martial Arts Blogs and Info
Kensho Class Schedule
Our Limited Time Web Only Trial Offer!