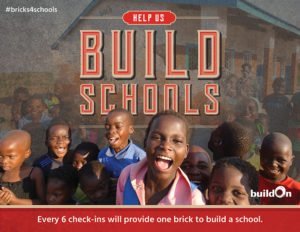 Hi friends,
This August, we are partnering with buildOn to provide bricks to build schools in developing nations! Every 6 check-ins will provide one brick to build a school.
buildOn's mission is to build schools in villages that historically have had no adequate school structure. buildOn has built more than 1000 schools in seven countries around the world: Burkina Faso, Haiti, Mali, Malawi, Nepal, Nicaragua and Senegal. This month, check-ins at our location are going towards building a school in Nicaragua.
If you want to learn more about buildOn, you can check them out at http://www.buildon.org. The hashtag this month is #bricks4schools.
Thanks for checking in to help build a school in Nicaragua!
Christine Luri
P.S. If you haven't heard of Causely, here's how it works… Causely makes a donation to a great cause every time people check-in at our location. To learn more about Causely visit causely.com/our-good.