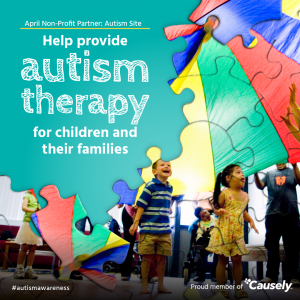 Hey friends,
This April we're happy to support Autism Awareness month by partnering with The Autism Site to provide therapy for children with autism.
Every 2 "check-ins" on Facebook or location "tags" on Instagram, provides one minute of therapy to an autistic child and their family.
The Autism Site provides access to incredible play therapy sessions which promote long-term and short-term memory, stimulate language, negotiation and communication skills. It also nourishes the family by relieving stress and forging important emotional bonds.
Take a quick glance at The Autism Site's Facebook page and blog to see how their therapy makes a difference in the lives of the children and their families:
https://www.facebook.com/TheAutismSite/
http://blog.theautismsite.com/
The hashtag this month is #autismawareness.
Thanks for checking in to give back to a great cause!
Sincerely,
Team Kensho
P.S. If you haven't heard of Causely, here's how it works… Causely makes a donation to a great cause every time people check-in at our location. To learn more about Causely visit causely.com/our-good.