GOOD NEWS! Our life-changing, character-building, fitness-boosting Kids Martial Arts Summer Day Camp is NOW open for EARLY ENROLLMENT!
We have a LOT of amazing activities, games, events, lessons and MORE planned for your child this year.
In fact, this is going to be our BEST camp ever!
Your child won't just have FUN this summer…They'll grow in profound ways too, learning:
Discipline
Respect
Focus
Concentration
Humility
And MORE!
We blend martial arts, life lessons, and CRAZY-AWESOME-FUN for one heck of an amazing summer.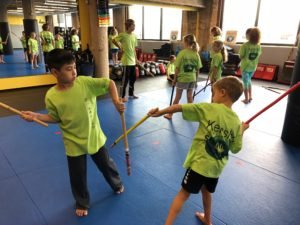 Martial arts classes are always delivered in a safe and exciting manner by experienced instructors. Our daily focus is to help each child cultivate the values of Respect, Discipline, Awareness, Kindness & Leadership. In addition, we stress the learning of important life skill that will help shape them into amazing members of society.
Your child does not need any previous martial arts experience to join our summer camp. If your child has never participated in martial arts before this will be a great experience for them, and one they will never forget!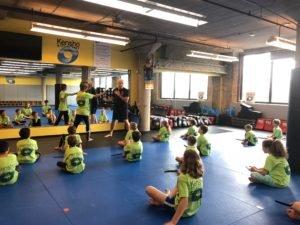 They'll be really proud of all the cool skills they've learned! To show off our new skills, we perform a Friends and Family Demo event on Friday afternoon. The kids work together on this all week and come together as a team to create a fun demonstration on their last day. It's always a wonderful experience!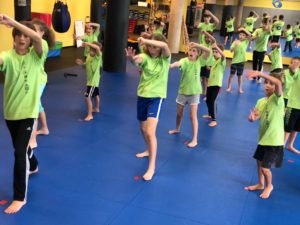 Registration is limited in order to maintain the quality of our program.  Campers must be 6 years of age at the start of camp. (limited to ages 6 -12 years old)
What to bring to camp:
Lunch (everyday except Friday Pizza party day, no peanut products please)
Refillable water bottle
Martial arts equipment including: boxing gloves & kali sticks (we have loaners so no need to run out a purchase anything)
Wear comfortable clothing  (gym clothes)
Please do not send valuables or electronics.
Monday – Friday 10am – 4pm
Choose from 2 one week camp sessions: August 10 – 14 & August 17 – 21
Ages 6 – 12. Non- members welcome!
What's included:
Daily Martial Arts Instruction
Yoga & Meditation classes
Guest Instructors throughout the week
Team building and leadership training
Kensho Camp T-shirt
Craft supplies, noodle sabers & Kali training sticks
Daily nut-free snack
Pizza party lunch on Friday
Family Demo event Friday at 3:30pm