Build Confidence
Kids martial arts classes
 Martial Arts for Kids 6-12
Students in our kids classes see their concentration, awareness and leadership skills grow. Kensho's kids classes are designed help elementary school aged children progressively develop a comprehensive set of martial arts skills for self defense. Working together toward their goals, they develop healthy habits for life as they learn teamwork, perseverance and resilience in a positive environment. Students become more positive people ready for whatever life throws their way.
Classes are fun, with a variety of activities to keep your child engaged.
Motivation to excel and reach goals.
Martial Arts training through grammar school years helps Kensho kids build confidence, leadership skills and healthy habits for life! Recognition, reward, ranking and team spirit keep kids motivated to excel. Stripes and belts are awarded based on accomplishment and achievement! Progress through the ranks helps kids develop the confidence to push their boundaries and maintain a winning can-do attitude!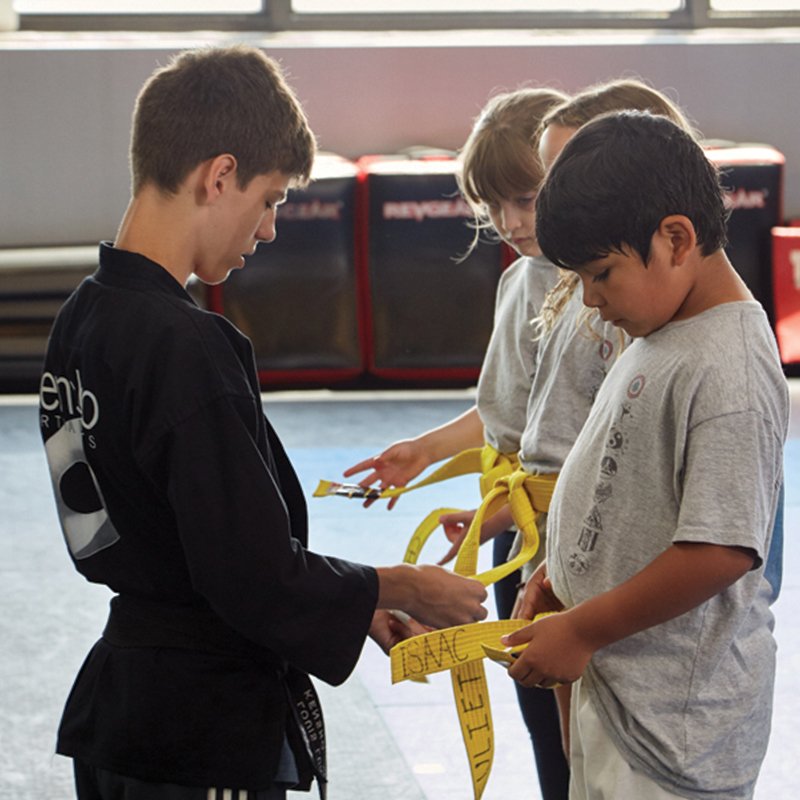 Our mixed martial arts curriculum targeted towards the needs of school aged children kids will build and reinforce their progress in:
Focus
Discipline
Fitness

Social Interaction

Memory
Teamwork, respect, and a positive attitude.
Your child will gain more than just the confidence that comes from knowing how to defend themselves. They will learn to focus their attention, to support other students, and work as a team. Kensho puts children on a path toward establishing physical fitness as a lifelong habit.
A fun and supportive environment.
Kensho martial arts is an amazing place for my children to learn martial arts in a safe, supporting environment which is also challenging and disciplined.  Roger and Christine the owners are amazing, and the parent community is warm and positive. 
Everyone is so nice and caring towards the kids. Plus they are really good instructors. My daughter loves Kensho!
What are you waiting for? Schedule a time for your free private introductory class.