It's incredible what our Teens are capable of accomplishing! It's all about challenging them physically and mentally in a fun environment along with others in their age group. This allows them to connect socially and have fun as they challenge one another in a positive and supportive environment.
Our tween-teen program is designed for kids 12-16 years old. Students work to master a repertoire of awesome martial arts techniques for self-defense, physical fitness and emotional well-being in a positive environment that fosters teamwork and respect.
In addition to the learning the fundamentals of Karate, Tae Kwon Do, Judo and Kickboxing, our students explore and master techniques from a number of other martial arts. These include Muay Thai, Jui Jitsu, Filipino Kali and French Savate. Instructors include advanced older students and young adults who serve as role models and show our students that their goals are within reach.
Recognition, reward, ranking and team spirit teens motivated to excel.
Progress through the ranks helps kids develop the confidence to push their boundaries and maintain a winning can-do attitude! Our curriculum targeted towards teen students builds and reinforces their progress.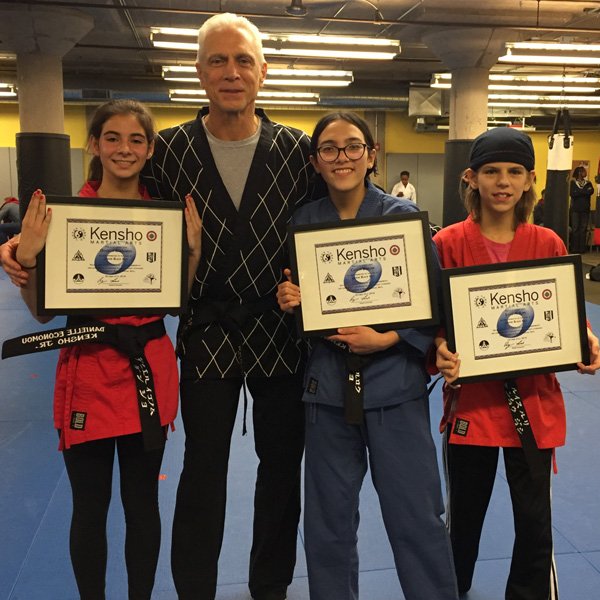 ---
Kensho's program develops confidence, respect, and a winning positive attitude. Students learn how to set and accomplish challenging goals. Students gain the confidence that comes from knowing how to defend themselves while building awareness and safe habits; learning to recognize unsafe situations at school, at home, in public settings and everywhere they go. Students learn how to diffuse a situation using verbal defense, as well as using attitude and strong body language to prevent bullying and harassment. They learn to defend themselves in a variety of situations, but are taught that fighting is the last resort.
---
At Kensho, we love Martial Arts and we want to make sure our students are introduced to Martial Arts the right way.
We start with a Private Introductory Class where new students learn a few basics so that they'll be ready to join group classes. Over the years we've found this to be the best way to introduce new students to martial arts. It really makes a difference!
Try Kensho Chicago's Teen Martial Arts to see for yourself.
Free garage parking and conveniently located between Lincoln Park, Lakeview, Bucktown, Wicker Park, River North and the Gold Coast.
Call us now at: 312-957-8050
Or enter your email for more info including our Class Schedule and Immediate Access to a Limited Time – Trial Offer!