Kensho Kickboxing – Solid Skills – High Intensity Workout For Seasoned Martial Artists or Beginners Alike
At Kensho you'll learn the sweet science of boxing & kickboxing step by step. We break it down & teach it like no where else.  We'll show you the way to start building the right moves from your first class.
Don't worry, you'll get into awesome shape in a hurry. Our kickboxing classes are the ultimate whole body workout for students of all levels.  We combine rounds of heavy bag work with intervals of our specially designed functional fitness exercises so you develop your technique along with practical functional core strength, flexibility, and a strong, sculpted physique.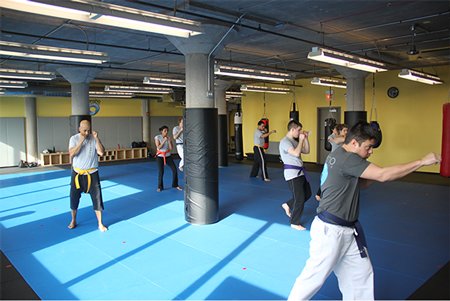 No experience necessary to start.
No one is born knowing how to punch and kick. Much like tennis, snow skiing or any other sport, it looks really easy when we see someone doing it who knows how. When we try it ourselves, we find that if we expect to get much out of it we're going to need to learn how to do it properly.
We all start as beginners. The difference is that at Kensho we have the experience and time tested step by step curriculum to help get you started on the right foot and bring you step by step all the way to black belt level.
You'll be having fun & getting an awesome workout from day 1, but at the same time you'll be developing the solid technique and form to train safely and take your fitness to the next level. 
---
Fun and welcoming classes
You begin with a 30 minute Personal Training session to show you a few basics and get you started on the right foot. 
You'll find Kensho's instructors and students alike to be friendly, and welcoming. Everyone will make you feel like one of the family regardless of your skill level. Classes are challenging, but huge fun for beginner or seasoned athlete alike.  We train seriously, but always keep it fun!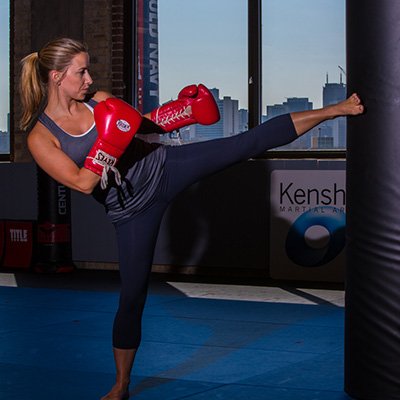 ---
Develop Top Fighting Skills
We teach you moves from different styles of kickboxing including K-1, Thai Boxing (Muay Thai), French Savate, and more.
Kensho's comprehensive boxing and kickboxing curriculum is like no other. It has been continually developed and refined to build our student's skills quickly. In our beginning Level classes, you'll do a lot of fun partner drills that are specifically designed to develop your skills in a hurry. After just a few classes, you'll know how to move & be able to use it if you need t0. 
Don't worry, you won't be fighting anyone in class, but it is nice to know you're training with a champion fighter who has helped many students to become champion boxers & kickboxers and trained an awesome group of instructors!
If you want to take it to the next level, you're in the right place. You don't have to be a fighter to learn to throw knockout punches & kicks, but even if you never want to try sparring, you will learn solid skills and get into fighting shape.
---
Old School meet New Tech!
Our heart rate zone training system keeps you working at your optimum level for maximum results in minimum time. You can accurately measure your progress as your fitness increases.
At Kensho, we use the state of the art MYZONE physical activity monitoring system. With MYZONE we can measure our performance in real time and track our workouts to measure our progress. Every month we have a fun "Challenge" to help keep us working to be our best.

MYZONE is an accurate heart rate monitoring system that lets you track how hard you're working and even compete together.
---
Interested or Committed?
Let's face it, Interested won't get results!
Kensho Kickboxing – Accept the Challenge!
---
Frequently Asked Questions
Will I get punched or kicked?

Our Kickboxing Workout classes are designed to get you in shape fast, so the class will definitely kick butt, but beginning level classes are all non contact.

Do I need to be very flexible?

You'll be developing your flexibility as you progress.

Do I need to be in shape to start?

This is the biggest misconception. Don't keep using this excuse! Classes are designed to get you in shape. They are going to be challenging, but you can work at your own pace and you'll begin seeing big improvements in your conditioning level very quickly. Our MyZone heart rate monitoring system helps you to work at your optimum level for maximum results.
"You don't need to be great to get started, but you do need to get started to be great."
Enter your e mail below for immediate access to:
More Kickboxing Blogs and Info
Kensho Kickboxing Class Schedule
Our Limited Time Web Only Trial Offer!