Kensho Mixed Martial Arts
Get in the best shape of your life.
Watch Video

I've been going to Kensho for 4 years and I still love it. It still kicks my butt every time I go. It's great for learning the many different styles of martial arts and getting fit. I'm still learning new stuff every week along with trying to perfect my older skills.
John P.
Chicago

There's a great focus on technique and fundamentals at Kensho. Roger Luri's extensive experience really shows up in the training—not only instructing how to perform movements but also when and why. Very good stuff!!
Robert W.
Bucktown
Kensho is a Zen term for an initial enlightenment or awakening or more literally a glimpse of our true nature. At Kensho Martial Arts in Chicago, we believe that our true nature is health and happiness. Day to day stresses can easily cause us to feel distracted and to lose our confidence. Our training helps us keep our minds and bodies connected and in harmony to maintain confidence, inner calm and mental clarity.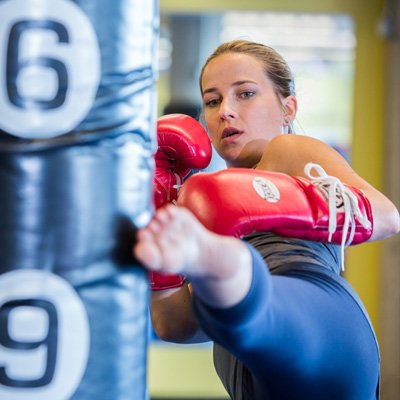 Get Fit with Kickboxing/MMA Bootcamp
Kickboxing and Mixed Martial Arts can provide a path toward fitness. Physical fitness is critical to maintaining our health and happiness. We spend more & more time sitting; working on computers and other devices, driving, airplanes, etc. To maintain our wellness, we need to develop the habit of exercising on a regular schedule, but if it's not fun, chances are we won't keep it up. Kensho's Kickboxing Bootcamp classes are designed to help you get a serious well balanced super fun workout in as little time as possible. These classes use our state of the art MYZONE system which makes it easy for you to get the most from your training time and track your progress. You'll Get Fit FAST and you'll meet some great people to help keep you motivated. With free garage parking, we make it easy for you to get in & get out quickly if you're pressed for time.
Martial Arts Ranking
As you enjoy our great view and get a great workout throwing some punches and kicks on our pro level equipment, you may get the bug to learn more. If you want to learn to perfect your moves for self-defense, Kensho's Martial arts programs allow you to learn some fancy footwork to bob & weave and deliver a knockout punch or kick. If you want to learn more and take it to the next level, you can earn ranks through instructor level in: